28 SERIES SINGLE BAY ESD CABINETS
ESD-28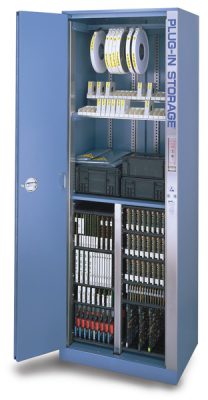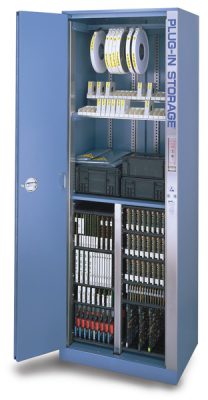 PSSI 28 Series Single Bay ESD cabinets are high density ESD safe storage cabinets for circuit boards where a narrow circuit board storage cabinet is required. The 28 Series ESD cabinets are the ideal choice for digital switching, facility and private line offices, communication centers and computer centers. A 28 Series ESD cabinet is 82″ H by 28″ W by 21.75″ D.
PSSI's patented ESD dissipative shelving system accommodates a wide range of circuit board sizes. The adjustability of the PSSI ESD dissipative shelving system provides the highest density of variable size circuit boards compared to other circuit board storage cabinets on the market. These ESD safe cabinets can safely store packaged or unpackaged circuit boards (see Specifications: Shelving). In addition to circuit board storage, these ESD safe cabinets also provide protection from theft, fire and unauthorized entry.
REGULAR FEATURES
High density storage for large quantities of circuit boards
Easy access for inventory control and rapid bar code scanning
Infinitely adjustable ESD dissipative shelves to accommodate multiple size and shape printed circuit boards
Protection from theft, fire and unauthorized entry
Multiple Central Office ground points
Multiple wrist strap attachment points for simultaneous access
Optional PWGM tester provides continuous wrist strap and ground monitoring
Earthquake resistant design with optional frame
Integrated levelers for easy, proper installation
Three-point locking bi-fold reversible door for security and easy access protrude less than 12″ (305 mm).
PSSI Model 28-21 ESD cabinets include these exclusive features:
Model 28-21 ESD safe cabinets are designed for digital switching facilities, private line offices and major computer data centers where spare circuit board storage space is at a premium. Model 28-21 consists of a single cabinet with two compartments, each of which can be used independently or custom configured. Patented, infinitely adjustable, ESD dissipative circuit board shelving (refer to here) facilitates high density, protective storage of circuit boards up to 18 inches (457 mm) deep. A full range of customizing accessories is available for custom configurations.
Model 28-21 protective storage cabinets can be requested without standard shelving. Model 28-21A ESD safe cabinet is available to customize according to your specific need (please see  Customizing Accessories).
Customizing Accessories The following accessories are available for custom configurations of Model 28-21A cabinet:
HB00-23 Hanger bar for 20 (max.) magnetic tapes or computer printouts
DC19-23 Data cartridge shelf double-tier storage; 38 data cartridge chambers
HS20-23 ESD dissipative flat metal shelf for packaged circuit boards
H10-16 ESD dissipative circuit board shelf
H10-18 ESD dissipative circuit board shelf
C-TRAC Stainless steel center support track for polymer shelving
PWGM Wrist strap tester and ground continuity monitor
PSSI's Technical Service Department will be glad to assist you in answering any circuit board storage questions and help you to select the best cabinet, shelving, customizing accessories and ESD safe products for your particular application.
PSSI offers complete on-site cabinet installation by their trained technicians. PSSI technicians ensure that your new PSSI ESD cabinet is correctly attached, leveled and that all ground connections are properly functioning. PSSI technicians can significantly reduce the time required in determining an efficient shelving layout and hardware installation.
Like many of our other ESD safe products, the PSSI 28 Series ESD cabinet model is patented.
Specifications: Model 28-21
Construction:
Cabinet and doors 14-gauge welded steel construction
Finish:
Textured, fire-resistant paint; standard colors blue, gray, or beige; custom colors available
Dimensions:
82″ H x 28″ W x 21.75″ D (2083 mm H x 711 mm W x 552 mm D)
Door:
Reversible, bi-fold, tamper-proof with 3-point contact lock; protrudes less than 12″ (305 mm) when open
Grounding:
Four ESD-dissipative ground points located at back corners of the cabinet to connect cabinet ground wire to central office ground system; multiple wrist strap ground point receptacles; optional PWGM tester/ground continuity monitor available
Shelving:
For un-packaged circuit boards Special injection molded polymer compound for permanently ESD-dissipative surface resistivity range of 106-109 ohms per square. Part No. H10-18, 10″ W x 18″ D (254 mm x 457 mm) Part No. H10-16, 10″ W x 16″ D (254 mm x 406 mm) For packaged circuit boards ESD-dissipative flat metal shelf: 16-gauge steel with ESD-dissipative paint. Part No. HS20-23, 20″ W x 23″ D (508 mm x 584 mm)
Installation Features:
Knockouts for installation in existing equipment lineup or wall mounting, side-by-side or back-to-back; bottom cutouts for anchoring to raised floor locations (can be insulated from floor); 4 built-in levelers compensate for floor variations.
Please Contact US for more information.
Plug-in Storage Systems, Inc. (PSSI) designs and produces cabinets of Dock & Lock with government compatible CAC technology to ensure prime security for your mobile devices.  Advanced networking systems can update E-Tools as they charge. DoD CAC, PIV, RFID/Prox or our PSSI memory cards can be used with an administrator-programmed pin for added security. Secure, powered and connected storage can be used for laptop computers, electronic devices and other applications. PSSI cabinet solutions integrate device management, security locking and charging functionality in one system.
---