50 & 54 SERIES ESD CABINETS
ESD-54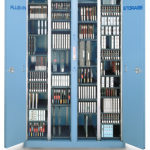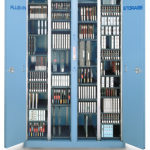 Plug-In Storage Systems offers an extensive line of ESD storage cabinets to protect your spare circuit boards, test equipment, sensitive electronic components and magnetic media from ESD events. PSSI firmly believes by using ESD safe products and proper ESD control in the handling and storage of spare circuit boards and sensitive electronic components will result in lower inventory investment, higher quality of service, increased profitability and market competitiveness. Do your protective storage cabinets provide protection from ESD, theft, fire and unauthorized entry? Ours do! PSSI ESD cabinets and the rest of our ESD safe products provide complete ESD protection. Protect your circuit boards and delicate electronic devices from inadvertent ESD events by storing them in ESD safe storage cabinets. PSSI has twelve models of ESD safe cabinets available for you to choose from.
PSSI's Technical Service Department will be glad to assist you in answering any circuit board storage questions and help you to select the best storage cabinet, shelving, customizing accessories and ESD safe products for your particular application. Like many of our other ESD safe products, our ESD cabinet models are patented.
REGULAR FEATURES
Heavy-duty cabinet and doors of 18-gauge welded steel construction
Adjustable ESD-dissipative flat metal shelving for ESD protective-packaged circuit boards
Single latch doors with internal quick-release hinges
Protection from theft, fire and unauthorized entry
Four convenient ground points for connection to central office ground system
Multiple wrist strap and ground point receptacles
Vertical shelf dividers (optional) for product organization or classification
Integral levelers, knockouts, and cutouts for easier installation
Please Contact US for more information.
Plug-in Storage Systems, Inc. (PSSI) designs and produces cabinets of Dock & Lock with government compatible CAC technology to ensure prime security for your mobile devices.  Advanced networking systems can update E-Tools as they charge. DoD CAC, PIV, RFID/Prox or our PSSI memory cards can be used with an administrator-programmed pin for added security. Secure, powered and connected storage can be used for laptop computers, electronic devices and other applications. PSSI cabinet solutions integrate device management, security locking and charging functionality in one system.
---