2029 SERIES LAPTOP CABINET-SECURE, NETWORK READY E-TOOL SECURITY CABINETS
Standard-2029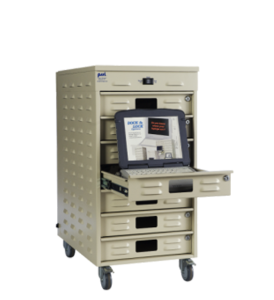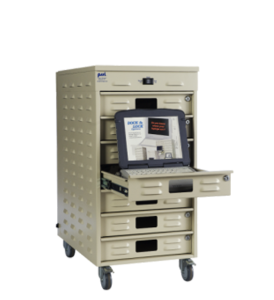 Dock & Lock® Laptop Security Cabinet model 2029-L-7 is ideal for applications requiring secure and powered storage for just a few computers. Wireless sites, such as administrative offices, medical offices, research centers and laboratories are popular applications.
Model 2029-L-7 is a 7-drawer, 29″ high cabinet that ideally fits under a counter top.
REGULAR FEATURES
Unique, patented, articulating cable management system to each drawer eliminates tight bending of cables that will degrade performance over time.
 Automatic, thermostatically controlled fans safeguards against heat build up, protecting the longevity and integrity of stored computers.
Convective ventilation system promotes air circulation and dissipates heat even when the fan is idle.
Independently locking drawers offer security. Individual key assignment promotes accountability. A master key is provided for management.
Can be bolted to the floor or wall for added security.
Equipped with a 125V/15A/60Hz Surge Suppression Power Supply. All electrical components are UL approved.
Sturdy steel construction with durable beige powder paint finish. Multiple knockouts conveniently located for cabling access.
Heavy-duty, full extension drawer slides with precision ball bearings.
Sturdy, full width pull handles for easy drawer access.
Cabinet arrives fully assembled, ready to use.
Interchangeable Drawer module (IDM)
Mobile Base Kit: Model 1525 is a steel support base with four 4″ (10.2cm) swivel casters (two are locking), adding 5″(12.7cm) to overall cabinet height. The kit also includes an 18′ (549cm) retractable power cord, two ergonomically designed cabinet handles, one 14′ (427cm) connecting communications cable.
AC Kit: AC power cords can be provided to each drawer. All electrical components are UL approved.
Networking Kits: Cat 5E or Cat 6 cabling can be pre-wired to each drawer. Complies with Category 6, 568 Standards. Switches, routers or hubs can be pre-installed in the cabinets' base compartment.
Dimensions:
Model Number

Description

Width

Height

Depth

in

mm

in

mm

in

mm

2029-L-7

5 Drawer Laptop Cabinet

20.00″

508mm

52.00″

1321mm

25.00″

635mm

Each Long Drawer

17.00″

444mm

3.25″

83mm

20.25″

514mm

AC-PW

AC Power to each drawer

C5E-PW

Cat 5E wiring to each drawer

C6-PW

Cat 6 wiring to each drawer

USB-PW

female USB to each drawer.

40MB

Mobile Base for Dock &Lock Series 4052 (adds 5″ (127mm) to cabinet height)
Power Management:
| | | | | | |
| --- | --- | --- | --- | --- | --- |
| Drawer Number | Fan Number | Power for Laptops | Power for Control Units | Total Power | Total Current |
| 10 | 4 | 850 w | 208.64 w | 1058.64 w | 9.6 A |
| 20 | 8 | 1700 w | 217.28 w | 1917.28 w | 17.4 A |
| 30 | 10 | 2550 w | 221.6 w | 2771.6 w | 25.2 A |
*** Each laptop computers needs 85 w of power
*** Each switch needs 200 w of power
*** Each fan needs 2.16 w of power
USER ENROLLMENT / ACCESS OPTIONS
Below is the list of possible access options for the CA cabinet. Users can access a drawer by using their RFID badge, a smart card or CAC card, Barcode Scanner, or a keypad pin entry. A cabinet can run on any single access option below, or use multiple options at the same time.
STANDARD CABINET FEATURES
| | | | |
| --- | --- | --- | --- |
| | | | |
| Ventilated Rear Panel | Pick Your Drawer Size | Cable Management System | Industrial Casters |
| Perferations allow airflow to keep cabinet component operating temperatures low. | The chart below shows the available drawer sizes that will fit this cabinet | Patented cable managment system eliminates cable bending and breaking. | Industrial strength steel swivel casters provide mobility and 5″ of height |
OPTIONAL FEATURES
| | | | |
| --- | --- | --- | --- |
| | | | |
| Docking Station Solutions | Custom Drawer Wiring | Network Switch / KVM Switch | 19U Rack with UPS System |
| Docking station makes removing and returning laptops quick and easy | A/C power splitters, dual CAT6, 220v Power, KVM, USB charging solutions are all available | Have us provide and install your managed or unmanaged switch or KVM system | UPS system will provide over an hour of battery backup with plenty of space for other rack mountable devices. |
| | | | |
| --- | --- | --- | --- |
| | | | |
| Fiber optics connection | Fiber and network connection | View of fiber wire in cabinet | Switch and universal power supply |
| Fiber patch panel used to connect the computers and the terminals of the users. | The connectors of the fiber, ethernet and power supply to connect the computers. | The layout of the fiber cables in the cabinet to connect the computer and the patch panel. | Universal power supply with 220v/110v auto detected that can be used worldwide. |
Please CONTACT US for more information.
Plug-in Storage Systems, Inc. (PSSI) designs and produces cabinets of Dock & Lock with government compatible CAC technology to ensure prime security for your mobile devices.  Advanced networking systems can update E-Tools as they charge. DoD CAC, PIV, RFID/Prox or our PSSI memory cards can be used with an administrator-programmed pin for added security. Secure, powered and connected storage can be used for laptop computers, electronic devices and other applications. PSSI cabinet solutions integrate device management, security locking and charging functionality in one system.
---