CONTROLLED ACCESS 2418 TABLET SERIES
Tablet-2048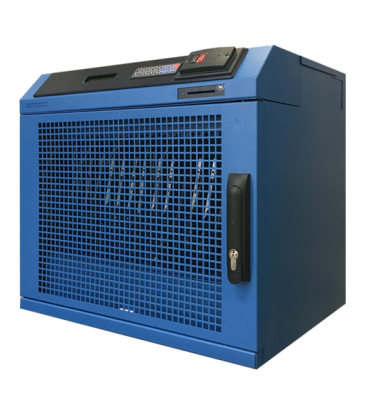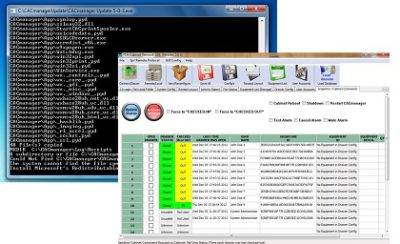 Access controlled storage with device tracking ready for  IT Deportments, Flight lines, Offices, Shop Floors, and Hospitals.
The Smart Tablet Cabinet is a product designed for the latest USB T ype-C power delivery specification. It allows the user to connect 16 power hungry USB devices. The Cabinet supports USB PD, and USB data speeds up to 480Mbps (USB2.0}. USB Type-( Power Delivery (USB PD} devices can negotiate a voltage from SV right up to 20V with a current of up to 3 Amps from the charger. The Smart Tablet Cabinet delivers up to 60 watts per port for MacBook & Chromebook and HP Elite charging as well as Type-( PD enabled phones, tablets, and many more devices. Full control over port power and state, along with the ability to monitor many aspects of the device operation via our GUI.
Plug-In Storage Systems Cabinets allow for custom configuration, providing the precise level of intelligence needed to give your company total control over its valuable assets and critical processes.
Intelligent power and inventory management software to ensure devices get the power they require, while the cabinet secures each device. Our proprietary CAC manager software records all user activity, viewable in real time. Centrally managed and controlled by our user-friendly software, allowing you to allocate devices to specific users at specific times. Establish device property record information and can be integrated with existing databases.
Device serial number tracking allows each asset to be individually inventoried in the cabinet, enabling you to know when it's in use, when it's returned, and when it's ready to use by the next individual – creating 100% accountability
The system sends alert notifications to the administrator when a device is overdue. Our Smart Tablet Cabinet accommodates a wide variety of device sizes.
Compatible with the latest Type-C PD devices
Apple MacBook, MacBook Pro, HP Elite X2, Dell XPS 13, XPS 15, lnspiron 14, Chromebook Pixel, Pixelbook, Elite X21012 Gl, Elitebook BxlO GS, Elitebook 1040 g4, Spectre 13, Spectre Pro 13, ZBook GS, iPad,Pro, Zenbook ,ThinkPad, ThinkPad Pro, Samsung TabPro S, Samsung Notebook 9 and Newer, Acer Chromebook.
Device Serial # Tracking and management.
Intelligent Charging
Access Methods: CAC + Piv Cards, Prox/ RFID. Temp emailed Pin # (Kiosk Mode)
Advanced Networking systems update e-tools as they charge
Log of ALL ACCESS EVENTS
Custom Reports Emailed
Stong, 2-point locking doors swing fully out of the way while the cabinet is in use.
Temperature Controlled Coolong
Small Footprint
The Smart Tablet Cabinet is a product designed for the latest USB Type-C power delivery specifications.
Custom shortened USB device cables are available for a clean and tidy installation .
REMOTE ADMINISTRATION AND AUTOMATION
Create custom reports using the (AC-GU I program. Automatically email reports and cabinet alerts to cabinet administrators and use
Charge, sync, and manage up to 32 devices simultaneously (2x 16 port boards). Our p-Hub Power Kit accommodates all iOS, Android, and USB devices.
Full control over each port, change one port or all ports from charge mode to sync mode by using the LCD screen and keypad.
Set customizable charge profiles for each port, this will display a charge percentage based on the devices current draw.
Charge profiles will also give each port a "time till charged" counter, profile countdown times are adjustable for better accuracy.
Use the LCD Screen to view device charge percentages, connection times, power draw, and much more.
Control fan speeds, temperature set points and temperature monitoring from the LCD screen.
Custom circuit board allows 2.1A current to charge each device to its full charging potential
Our "Bring Your Own Cable" design features a USB port on the top of each slot, so you care free to charge and sync any mix-and-matched devices
Sync your devices over WIRE using the custom USB hub, or sync WIRELESS to iTunes or cloud services.
Over-current and over-temperature alarms will keep your devices save by shutting down ports with a potential hazard.
Circuit board and power supply directly communicate to shut down idle and unused ports to conserve energy.
Model Number

Description

Width

Height

Depth

in

mm

in

mm

in

mm

CA2320-16

16 Port Charge + Sync Cabinet

23.00″

585mm

18.00″

457.2mm

20.00″

508mm

Individual Slot Dimensions

1.25″

31.75mm

14.75″

374.65mm

12.75″

323.85mm
PSSI will work with you to design a custom cabinet size, drawer size, combination of drawer sizes, or cabinet color to make sure that you receive a complete solution for your project.
| | | |
| --- | --- | --- |
| | | |
| Ready for any iPad Model, HP elite, Chromebooks, Windows Tablets  | Individual Slot LEDs | 270 Degree Swing Doors |
|   Each slot comes equipped with a USB header so you can use Lightning cables or the original 30 pin cables.   | Each device slot has its own LED to keep you informed on whether your device is charging or syncing | Doors swing fully open to maximize counter space and are secured with a 2-point locking system devices. |
| | | | |
| --- | --- | --- | --- |
| | | | |
| Ventilated Rear Panel | USB Uplink and Power | 2.1A High Power USB Hub | Add an Access Point or Router |
| Perferations allow airflow to keep cabinet component operating temperatures low. | Connect a computer to the USB uplink. Cabinet runs on 115-220V. | Our Custom USB hub provides up to 2.1A of current to each device. The board has temp and over-current alarms to keep your devices safe, along with port status LEDs. | The tablet cabinet has room in it's top compartment for accessory devices. Adding a wireless router or access point can increase your signal strength. |
Programs
Setup_CACmanager_5.3.6.6
: the installer of CAC Manager. (Please click
HERE
to enquire)
Setup_CAC_GUI_5.3.6.6
: the installer of CAC GUI. (Please click
HERE
to enquire)
Manuals and datasheets
CAC-Cab-Family-Data-Sheet
: the data sheet of CA cabinet.
PSSI-MacAddress
: presentation of MAC Address function module of CA cabinet.
PSSI-Security
: presentation of Security function module of CA cabinet.
ESD_guide
: introduction to ESD.
Tablet-Cabinet-Data-Sheet
: the datasheet of the tablet cabinet.
CACabinetManual
: the complete manual of Tablet cabinet. (Please click
HERE
to enquire)
Plug-in Storage Systems, Inc. (PSSI) designs and produces cabinets of Dock & Lock with government compatible CAC technology to ensure prime security for your mobile devices.  Advanced networking systems can update E-Tools as they charge. DoD CAC, PIV, RFID/Prox or our PSSI memory cards can be used with an administrator-programmed pin for added security. Secure, powered and connected storage can be used for laptop computers, electronic devices and other applications. PSSI cabinet solutions integrate device management, security locking and charging functionality in one system.
---