MULTI-USE 2252 DIVIDER SERIES
Cabinet MU-2352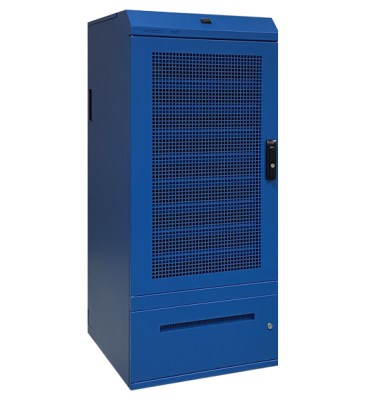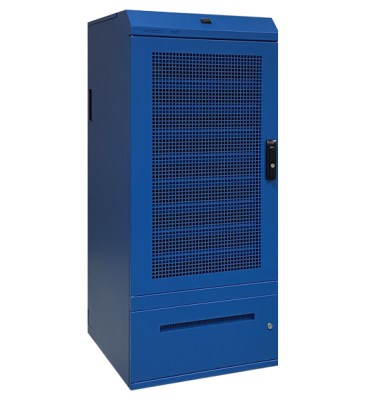 The Dock & Lock® Series MU 2352 Multi-Use Security Cabinet is our latest, most versatile addition to our line of dependable, cost efficient security products. This Multi-Use cabinet is designed for any application, providing secure, adaptable storage for laptops, communications systems and other electronic devices. Optional AC power and network cabling can be wired to each shelf, allowing your electronic devices to be powered up, charging, and connected to your network. This provides you the ability for remote computer management including installation of security patches and necessary updates.
This photo shows a complete, central system setup with a switch, server, laptop and printer. With the addition of the mobile kit, this setup becomes a mobile command center, capable of being deployed wherever it is needed. The MU 2352 provides limitless potential to serve your needs and specifications.
This MU 2352 cabinet is capable of containing 1 – 12 shelves. This adaptable system provides for up to 12 widescreen laptops, 30 mini laptops, or any configuration necessary. The bottom compartment contains a 19″ high, 6U rack for mounting various hardware, including network switches and UPS devices.
Single Door with two-point locking system for added security
Up to 12 pull-out shelves depending on your configuration, with optional AC power and network cabling
Our patented, articulating cable management system for each shelf eliminates bends that degrade performance of power and signal strength
Industry standard 19″ high, 6U rack in base compartment of cabinet
Automatic, thermostatically controlled fans
Sturdy steel construction with durable powder paint finish
Compatible with any make/model of laptop and netbook
Cabinet arrives fully assembled, ready to use
AC power to each shelf
CAT6, Fiber Optic Cabling to each shelf
Mobile Wheel Kit
Model Number

Description

Width

Height

Depth

in

mm

in

mm

in

mm

MU 2352

MU 2352 Multi-Use Cabinet

23.00″

521mm

52.00″

1321mm

26.50″

633mm

Individual Slot Dimensions

18.75″

476mm

2.50″

63mm

21.00″

533mm
PSSI will work with you to design a custom cabinet size, drawer size, combination of drawer sizes, or cabinet color to make sure that you receive a complete solution for your project.
Manuals and datasheets
ESD_guide
: introduction to ESD.
Plug-in Storage Systems, Inc. (PSSI) designs and produces cabinets of Dock & Lock with government compatible CAC technology to ensure prime security for your mobile devices.  Advanced networking systems can update E-Tools as they charge. DoD CAC, PIV, RFID/Prox or our PSSI memory cards can be used with an administrator-programmed pin for added security. Secure, powered and connected storage can be used for laptop computers, electronic devices and other applications. PSSI cabinet solutions integrate device management, security locking and charging functionality in one system.
---