KEYPAD SMARTPHONE CABINETS
Smartphone Cabinet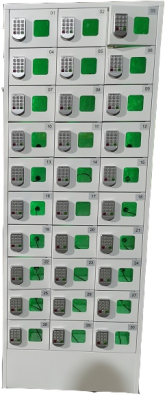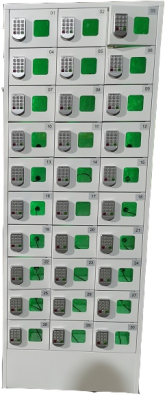 Cabinet used as charging station for smartphones, tablet, earphone, etc., which has multiple cells with lock. Digital password can be easily typed in with a keypad. Charging status can be demonstrated with different color of light. The cabinet has different modes for the user to choose. Easy to use, and easy to maintain.
INTRO DUCTION
DEVICE TO CHARGE
Designed to store, charge, and secure mobile electronic devices such as phone, camera, video game player, smart watch, MP3 / MP4 player, earphone, etc.
CABLE
Multiple individual locking compartments with 3 in 1 fast charging cable in each bay suitable for all kinds of phones to charge simultaneously.
MATERIAL
Made with durable, industrial-grade materials to protect from theft and frequent usage. The front and sides of the locker can be custom branded to display your marketing.
LOCATION
Perfect for schools, convention centers, airports, hotels, fitness centers, healthcare facilities, hotel lobbies, waiting areas, exhibitions, public libraries and events or anywhere electronic devices are used.
SPECIFICATION
ESSENTIALDETAILS
Input voltage: 100-240 V/1.2 A
Lock: Pin Pad Lock
Material: Cold Rolled Steel
Use: Camera, Earphone, LAPTOP, Microphone, MP3 / MP4 …
Output Voltage: 5V/2.1A
Output Power: 180W
Outlet: EU, US, UK, AU etc.
PINPAD LOCK
-Easy Operation: 4~6 digits password
-Security: Admin pin code protection
-Convenient: (1) Public: password resets after use (2) Private: one password and won't be reset after use
CHARGING CABLE
-100% Device Compatibility: Full-speed charging for most device on the market including iPhones, Android phones, Amazon Kindles, and GoPro Cameras. Guests can even use their own USB charging cable.
-3 Charging Connectors: (1) Lightning - iPhones (2) Type C - Android phones (3) Micro USB - Android phones
POWER SWITCH
-Power Switch
-Fuse Protection
-All kinds of plug standard are available, such as, EU, US, UK, AU etc.
Please CONTACT US for more information
Plug-in Storage Systems, Inc. (PSSI) designs and produces cabinets of Dock & Lock with government compatible CAC technology to ensure prime security for your mobile devices.  Advanced networking systems can update E-Tools as they charge. DoD CAC, PIV, RFID/Prox or our PSSI memory cards can be used with an administrator-programmed pin for added security. Secure, powered and connected storage can be used for laptop computers, electronic devices and other applications. PSSI cabinet solutions integrate device management, security locking and charging functionality in one system.
---